Home
BASSET License .com
BASSET License .com offers online courses for

Get an Illinois Bartending License

BASSET Approved!
Beverage Alcohol Sellers & Servers Education & Training License #11-5A-0092892
Welcome to Basset License .com
Online Responsible Serving of Alcohol® Training for alcohol sellers/servers in Illinois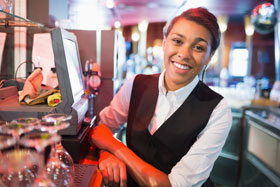 Do I need a BASSET License / Bartending License in Illinois?
Since 2018, it has been mandatory that all alcohol servers (those employees required to check ID for alcohol service) take a BASSET approved bartending license course In addition to the mandatory alcohol server requirement, there are also several municipal / county liquor license authorities who have specific training requirements as a condition for employment in a liquor establishment. Owners, managers, and sellers/servers must check their local ordinances for training requirements. It is the liquor retailers responsibility to be aware of state liquor laws, rules and regulations, and local ordinances in Illinois.
When does a BASSET certification expire?
BASSET certification expiration is based on state law and the municipality where you are working. BASSET cards are currently good for three years from the date of issuance.
Will employers receive reduced insurance rates if their staff has taken BASSET training?
Yes, there are some liquor liability insurance companies that will reduce your rates if your entire staff is BASSET trained and certified.
Do I get a card or certificate after I complete a BASSET class?
Yes, you will receive a certificate of completion upon passing the course online. Then, you will also receive a plastic wallet card (bartender license) in the mail at no extra charge
What does BASSET stand for and what is the goal?
The Beverage Alcohol Sellers and Servers Education and Training (BASSET) program was put in place by the state of Illinois. This responsible alcohol service education and training provides alcohol sellers and servers with state laws and related tools that promote responsible serving®.
BassetLicense.com is an independent provider of the Rserving (PSCC): IL Responsible Serving® course.
Three easy steps to get your IL Seller / Server BASSET Permit (server certification):
Order your "IL Responsible Serving® Course"
Take the course online at your leisure
Print your official certificate online instantly